This is no longer available on the Gazette's archives, so I'm reposting it here. Since it was published, more varieties of absinthe with a stronger tujone level have begun to appear at the SAQ.
Arbiter of ale and absinthe
After a long absence from the legitimate market, absinthe—the "green fairy", once thought to be the cause of violent outbursts, temporary insanity and Romantic poetry—has been making a comeback in recent years. It can be found in a number of bohemian hangouts in hipper parts of town. Stéphane Ostiguy, co-owner of Mile End microbrewery
Dieu du Ciel
(29 Laurier W.), got the idea to import the beverage for sale in his bar after discovering it in Spain, one of few European countries never to ban the drink. It charmed him immediately.
"The taste is close to pastis but it's more complex," he says. "In fact, pastis is a derivative of absinthe, developed after absinthe was banned. With pastis I taste water and anis; absinthe has more spices and flowers in it. A regular absinthe will use 15 to 20 plants."
His bar offers the whole ceremony. The gutsy can knock it back straight, while those who enjoy the ritual can pour cold water slowly over a sugar cube nestled on a silver spoon, creating a "louche" effect: the same cloudiness that appears when water is added to pastis or ouzo.
Absinthe spent the better part of the last century as an underground drug, clouded in mystique after it was banned in Europe and North America during the time of the temperance movement that brought Prohibition to Canada and the U.S.
"They would use people like Toulouse-Lautrec and Van Gogh, who were already very heavy drinkers, as examples that absinthe could make you go crazy," says Ostiguy.
What is controversial about absinthe is that it contains thujone, a controlled substance in Canada. At its worst, thujone consumption can provoke epileptic seizures, but recent tests have shown that absinthe, even what was produced a century ago, contains minute amounts of the substance. The effect of such a small dose is, according to Ostiguy, minimal. "It's pretty close to caffeine," he says. "Apart from the alcohol—and it is a very strong alcohol. I find it wakes me up, makes me more alert."
The European Union currently allows 35 mg/L of thujone in bitter alcohols, while the US has allowed 10 mg/L since last year. In Canada, all products containing more than 1 mg/L are sent to Health Canada, where they are examined on a case-by-case basis to determine whether they are safe for consumption. Importers find this vagueness frustrating as it can lead to confusion: Ostiguy says bottles he's tried to import at 10 mg/L have been sent back.
In 2005, Switzerland lifted its 100-year-old ban on absinthe. The first to apply for a licence was the Artemisia-Bugnon distillery for its appropriately named la Clandestine absinthe (rumour has it they'd been supplying the black market for years). Ostiguy tried their product and called them up to see if they could make it with less thujone. He says the lower thujone level makes little difference to the flavour.
"I contacted the private order department of the SAQ. They clearly told me the limit was 10 mg/L. So that's what I ordered and when it arrived it was seized. It took them six months to figure out what to do with it, then we had to send it back at our expense," he says. Artemisia-Bugnon developed a second product containing 4.9 mg/L. It passed. But all this makes it tough to find a good bottle in la Belle Province.
"You can find a few absinthes at the SAQ, but they tend to be lower quality because of the lower levels of thujone. The best I've tasted usually contain more thujone, but that's not per se a sign of quality," says Ostiguy. He says that connoisseurs are often looking for high thujone, so levels are raised to meet the demands of the market.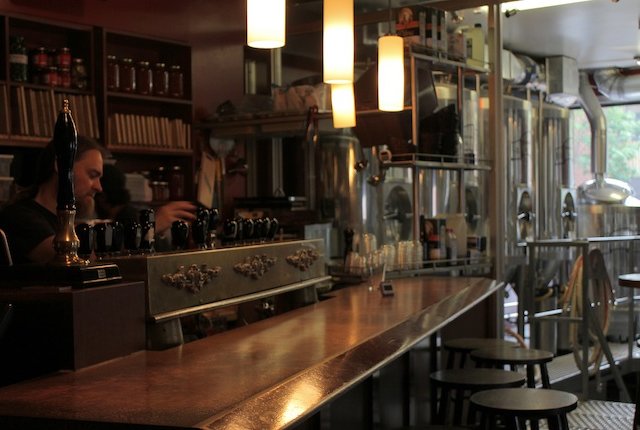 Dieu du Ciel doesn't just sell straight absinthe. In September 2007, they fused it with their other speciality when they introduced Nevaine, their absinthe beer.
"We use the absinthe plant, not the liquor," explains Ostiguy. But how do you make a beer with such a strong, bitter plant?
"It's true that absinthe is very bitter. And it's a harsh bitter, with no real flavour or aroma, so it was difficult to figure out the quantities we needed. JF (Jean-François Gravel, Master Brewer) and I did some experiments at my house, adding different ingredients together. The first batch was a mix of regular blond beer, absinthe plant, small absinthe and fennel. It was probably the bitterest thing I'd ever tasted," he laughs. "I loved it but most people couldn't drink it."
Further experiments led to something more drinkable, at least for the beer nuts that patronize Dieu du Ciel.
As for the absinthe itself, it's proven a huge success with Mile End hipsters, but Ostiguy hopes he'll be able to branch out further in the future.
"I'd eventually like to be able to offer two or three good absinthes so people can compare," he says. "And I'd like to submit our beer to one of the Extreme Beer festivals in the U.S., to see how the real beer geeks deal with it."
Montreal Gazette
Mon, Feb 16 2009 (this is the unedited text)